For more updates on the rugby club, join us on our Facebook and Instagram sites where you can find the latest news, updates and fun!
TRAINING
Training at Dempsey will be very quiet this Saturday, with most of the squads taking part in the Centaurs Tournament all weekend. Training is on as normal for the U4 and Girls Contact.
And good luck to everyone taking part in the tournament!!
Touch Training on Sunday is on as normal.
THE SINGAPORE LIFE FESTIVAL OF NATIONS 2019
The Singapore Life Festival of Nations is junior rugby 7 or 10 a-side fun competition, will be held on Saturday 30th November. It is organised by JRCS and hosted by Tanglin Rugby Club at Turf City. It is a chance for players from all clubs and schools to come together and celebrate another successful year. 
The Festival is open to boys from year of birth 2002 to 20114, and girls from 2001 to 2014. All players are selected to play for 1 of 12 national teams (AUS, ENG, FIJ, FRA, IRE, JAP, NZ, SGP, SCO, SAF, USA, WAL) in an age group specific competition.
There are no guarantees on which team you'll end up with, as part of the fun is not knowing until you get there on the day and meet your new team-mates. BUT, the earlier you register the more chance you'll be with one of the 3 teams you select as part of this registration process.
The entry fee is $45, which buys you a custom made 'national' team shirt to keep, a great day playing with new friends, and a chance to round out the rugby year in style!
This event has been a great success in the last few years and we look forward to more of the same this year. Please do sign up early at the registration link above. As you do so, parents, please consider checking the box to volunteer as a national coach.
TAX WORKSHOP: THE CHANGING COST OF UK PROPERTY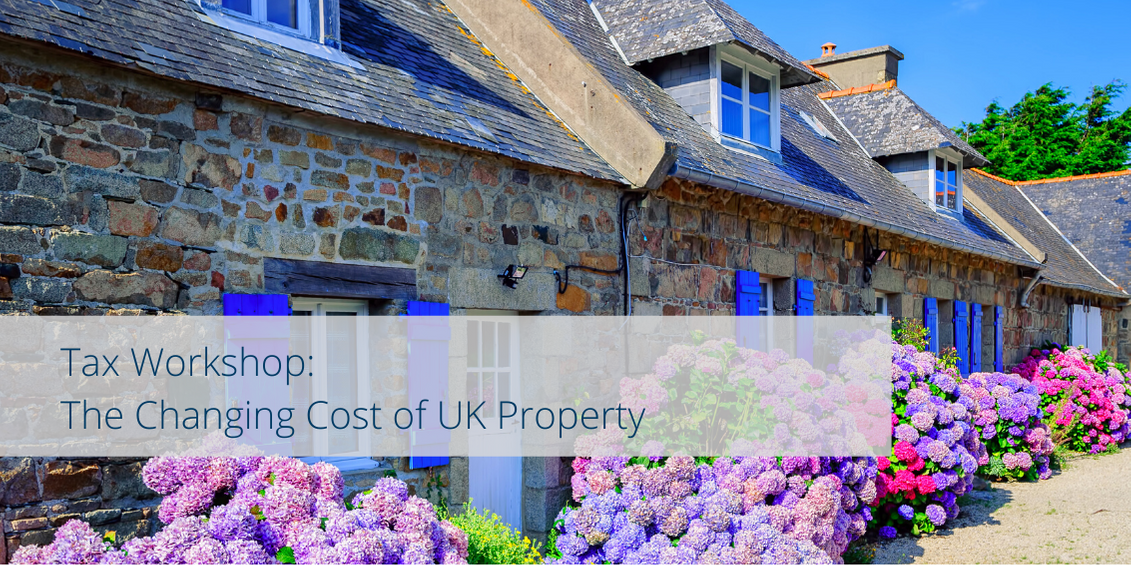 Speakers:
Peter Webb, International Tax Manager, The Fry Group
RSVP:
Light refreshments will be served and there will be plenty of opportunity for Q&A.
Residential property has long been a popular asset among British expats however in recent years, the UK tax authorities have made many significant changes to the taxation on both the sale and purchase of UK property, especially when owned by non-residents.
For those who currently own or are looking to buy or sell UK property, it is well worth getting an idea of the tax implications involved and the recent changes. This session will cover the key tax considerations including:
The tax implications of selling UK property
Recent changes to the rules and their impact
Tax planning tips and ideas relating to buying, owning and selling UK property
Places are limited and registrations will be accepted on a first-come, first-served basis.

HSBC SINGAPORE RUGBY SEVENS 2020 TICKETS NOW ON SALE
The HSBC Singapore Rugby Sevens 2020 will be played at the National Stadium on Saturday 11th and Sunday 12th April 2020. Tickets are now on sale at http://www.singapore7s.sg
The Early Bird promo code for the SCC Rugby Academy is 20SCCA.
ST ANDREWS BALL WITH RUGBY LEGEND ANDY IRVINE MBE
The Singapore St Andrews Society are holding their annual St Andrew's Ball on Saturday 30th November from 7:00pm at the Shangri-La. This year they will be joined special guest speaker, Scottish rugby legend and former president of Scottish Rugby Union, Andy Irvine M.B.E.
Aside from Andy Irvine, they will be kicking off the evening with the Gurkha Pipe band, folllowed by a fantastic night of Scottish themed food, dancing and of course whisky!
Singapore St. Andrews Society is a not-for-profit organisation and each year they support local charities in the community.
Tickets can be bought at this here.
WEATHER UPDATES
Please make sure you check the rugby club Facebook page for the status of training if there is haze, heavy rain, and/or thunder and lightening.
Join our Facebook page at SCC Rugby Academy Facebook
You do not need to be signed up to Facebook to view this page as our page is public and open to all.
DATES FOR THE DIARY
Centaurs International Mini & Youth Rugby Tournament – 23rd and 24th November
Festival of Nations – 30th November
Singapore Life Girls Rugby TRC Cup – 7th December
TERM DATES
The start and end dates for the rugby club are listed below:
Term 3 – Saturday 24th August 2019 to 8th December 2019 (with no training on 26th and 27th October for half term)